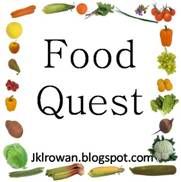 Last year, a good friend of mine and I started the Food Quest. We started it as a way to get out and try new foods at new places. It was so much fun! Asking people(that we knew or didn't) where they like to eat and taking a day to go try new things. I tried so many new foods and found so many things that I now LOVE! I like the idea of posting on my blog so that other people who might move into the area(or already live here) can find new & exciting places to eat.
So, the point of this blog....who would be interested in taking part of a monthly link-up of a fun place to eat in your area? Or even, post about a resturant or even a new recipe that you tried? I think it would be so neat to see all the good places to eat all over are, and since we travel so much, it would be nice to have an idea of where to eat(or steer clear of!).
Let me know if anyone would be up for it!